I have a set of brand new in the box, upper and lower ball joints I purchased for my 2002 Dakota RWD and discovered there were additional issues that needed addressed as well. With that discovery I decided to do a brake conversion while I had everything apart and in doing so rendered my new ball joints useless and by this time I had already missed my return window.
So, I have 2 Mevotech MK7393 (Lowers) and 2 Mevotech MK7392 (Uppers) for sale asking for $
100
$89.99 for all 4 plus shipping. These are greaseable. The retail for these are $30 and $35 each respectively. So better than a a freebie!
I have an ebay listing if you would prefer or you can contact me on here. Ebay listing link below.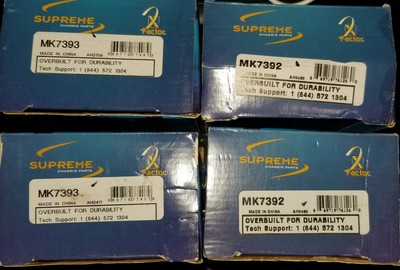 Complete Front Upper and Lower Ball Joint Set. 2 each of the upper and lower joints. Ball Joint Assembly Yes. Highly durable sintered bearings around the ball joint. Position Front Upper and Lower. Greaseable ball joints for increased service life and consistent grease flow.
Thanks.